Tokensale platform
The tokensale platform is a full interactive portal that provides extensive opportunities for ICO projects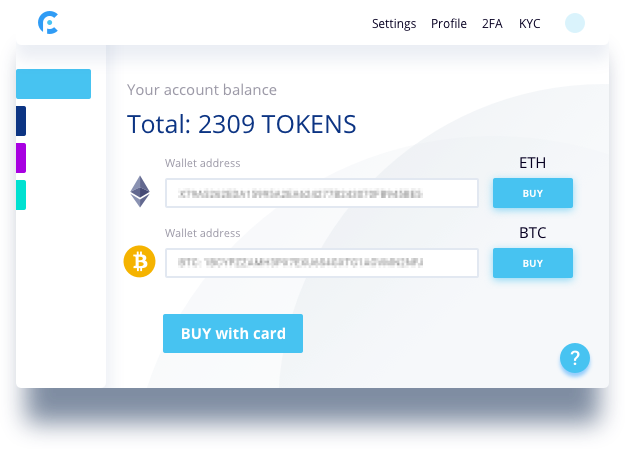 Tokensale platform allows you to focus on your project and delegate all technical tasks
to our reliable automated system
The platform keeps detailed statistics on the collected funds, transactions, and balances
of the users. Payments time stamps and statuses are logged in details on our server.
A personal account has a public API that displays accurate information about the
collected funds and the distribution of tokens.
Any other important cryptocurrencies can be added to the investment opportunities under an additional agreement. The user receives a personal address for payment in the chosen cryptocurrency.
We create a boxed solution. The integration with our service is matter of few hours.
Our acquiring and processing infrastructure allow use credit / debit card for your tokensale
The cryptoprocessing platform have a ready made integration with the famous KYC provider: Trulioo, Basisid, Jumio
You can generate special tracking links for traffic partner in admin account on tokensale platform
With promocodes your marketing team realize more attraction activity for project community
Our admin panel and dashboard have inbuilt users analytics and transactions information
The tokensale platform has a high level of DdoS protection with partnership maxcdn and cloudflare
All information from tokensale platform are real time replicated